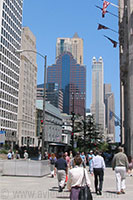 Yesterday Wife and I received a nice holiday gift: an afternoon in the city, just the two of us. First, I accompanied Wife on a trip to get her haircut. And you're probably thinking, "Really?". Well, I like the location. Her hairdresser lives in this cool 26th-floor condo on the far north side of Chicago overlooking the beach, and she does hair in one of the bedrooms. Great views! She also does hair & make-up for commercials and movies, so it's always fun to hear the stories of the people whose faces she's painted, and so forth. The stories always remind me of when I worked as a stage manager for the Opera where I met Wife, so we always have a good time when we visit Hairdresser.
Hairdresser allowed us to leave our car at her place, so after tipping the doorman a couple of dollars, we then spent $1.75 on a public bus that whisked us to the top of Michigan Avenue in about 7 minutes. It was nice to not have to deal with that traffic, let alone the fact that we probably saved about $25 in parking! We had a nice lunch at a Thai place at 900 North Michigan Avenue, and then we walked around with hundreds of other people going shopping, etc.
It's now the time of year that I don't mind hearing holiday music and seeing decorations, etc. Anytime before Thanksgiving is way too early, in my opinion. We spent hardly any money (don't forget what I do for a living), but the big-city experience was much fun. Just a couple of hours later we paid another $1.75 and took the bus back up the north side to retrieve our car.
Moose did well with his grandmother yesterday, and he got to hang out with his cousins, aunt & uncle (and some friends) during the day. We of course ate leftovers last night, and that's about it. Much fun!